Long Island Asthma Doctor
36 Years of Experience 

Accepts Most Health Insurances

Award-Winning & Recognized Medical Leader

Board Certified Allergist & Immunologist

Asthma offices in Massapequa, Plainview, North Babylon, Coram.

Top-Rated Allergist & Immunologist In New York
The allergy, asthma, and immunology team of Heart & Health diagnose, treat, and manage immunologic conditions including allergies, asthma, autoimmune diseases, autoinflammatory syndromes, and immunological deficiency syndromes.  Led by renowned Allergist Dr. Louis E. Guida, Jr., the team at Heart and Health Medical is comprised of board-certified Allergists and Immunology specialists and equipped with the most advanced equipment and facilities in Long Island, New York with four locations in Massapequa, Coram, North Babylon, and Plainview.
Nancy Kohlhoff
2021-07-01
RoseAnn Larson
2021-02-27
Melinda Lichioveri
2021-02-04
lori Friedmann
2020-12-08
Dr.Guida has treated my daughter for asthma since she wes 2 1/2 years old, he is the best truly the best ! He bedside manner, his kind nature, and his approach to treating the asthma. I highly recommend him ! Thank you Dr. Guida !
Great service.
everili Sanchez
2020-08-04
dr.guida best doctor I ever seen ..very happy ,show compassion,very profetional ... staff very friendly ...
Louis E Guida, Jr. MD, FCCP, FAAAAI, FACAAI
Board Certified in Allergy, Asthma and Immunology, Pediatrics
Dr. Louis E. Guida Jr. is a renowned Allergy & Immunologist with over 36 years of experience diagnosing, treating, and managing allergies, asthma, and immune disorders for members of the communities of Long Island, New York. Dr. Guida was initially awarded his medical degree from St. George's University School of Medicine. He completed his internship and residency in Pediatrics at Monmouth Medical Center, Long Branch, New Jersey. He went on to complete two fellowships – Cystic Fibrosis (Adult and Pediatric) and Pediatric Pulmonology at Hahnemann University Hospital in Philadelphia, Pennsylvania, and Adult & Pediatric Allergy / Immunology at Nassau County Medical Center in East Meadow, New York.
Dr. Guida's hospital affiliations are Good Samaritan Hospital Medical Center in West Islip, New York, and St. Charles Hospital, Port Jefferson, New York. He is an adjunct clinical assistant Professor of Pediatrics at the New York College of Osteopathic Medicine. He is the Medical Director of the adult and pediatric Cystic Fibrosis Programs and the Family Asthma and Allergy Center at Good Samaritan Hospital Medical Center. He is a fellow of the American Academy of Allergy, Asthma and Immunology, American College of Chest Physicians, and the American Academy of Pediatrics.
Adult & Pediatric Asthma
Allergy
Pulmonology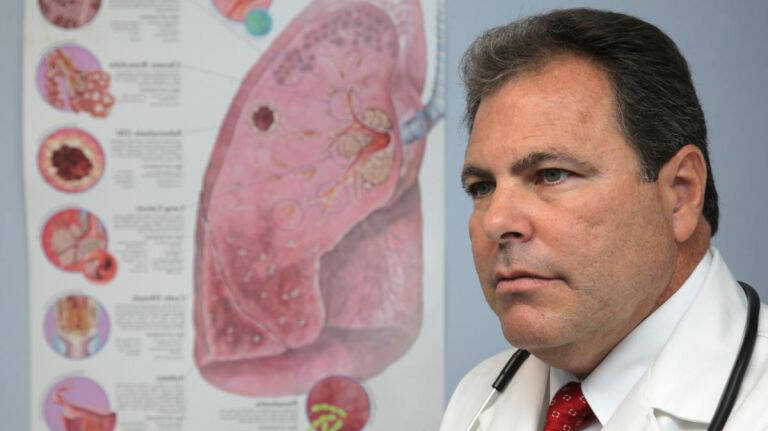 Hospital Affiliations
Good Samaritan Hospital Medical Center
St. Charles Hospital
Fellowships & Memberships
Fellow of The American Academy of Allergy, Asthma and Immunology
Fellow of The American Academy of Pediatrics
Fellow of The American College of Allergy, Asthma, and Immunology
Fellow of the American College of Chest Physicians
New York Allergy Society
Long Island Allergy Asthma Society
Cystic Fibrosis Foundation
American Medical Association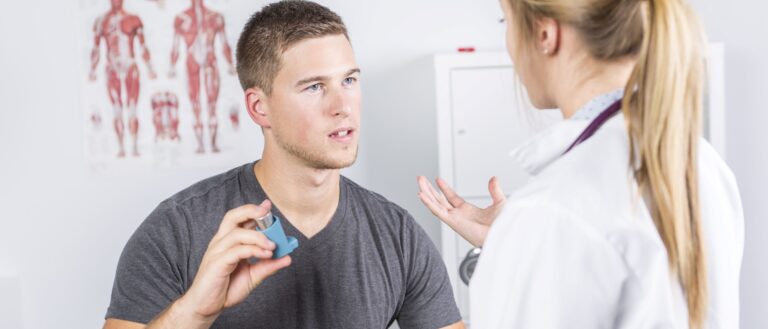 Asthma Symptoms, Diagnosis, and Treatment
What is Asthma?
Asthma is a condition in which your airways narrow and swell and may produce extra mucus. This can make breathing difficult and trigger coughing, a whistling sound (wheezing) when you breathe out, and shortness of breath. For some people, asthma is a minor nuisance. For others, it can be a major problem that interferes with daily activities and may lead to a life-threatening asthma attack.
Mild Intermittent Asthma
Symptoms occur less than twice a week, and nighttime symptoms occur less than two times per month.
Lung function tests are 80% or more above predicted values. Predictions are often made on the basis of age, sex, and height.
No medications are needed for long-term control.
Mild Persistent Asthma
Symptoms occur three to six times per week.
Lung function tests are 80% or more above predicted values.
Nighttime symptoms occur three to four times a month.
Moderate Persistent Asthma
Symptoms occur daily.
Nocturnal symptoms occur 5 or more times per month.
Asthma symptoms affect activity, occur more than two times per week, and may last for days.
There is a reduction in lung function, with a lung function test range above 60% but below 80% of normal values.
Severe Persistent Asthma
Symptoms occur continuously, with frequent nighttime asthma.
Activities are limited.
Lung function is decreased to less than 60% of predicted values.
Asthma Symptoms
Asthma symptoms vary from person to person. You may have infrequent asthma attacks, have symptoms only at certain times — such as when exercising — or have symptoms all the time. Asthma signs and symptoms include:
Shortness of breath
Chest tightness or pain
Wheezing when exhaling, which is a common sign of asthma in children
Trouble sleeping caused by shortness of breath, coughing or wheezing
Coughing or wheezing attacks that are worsened by a respiratory virus, such as a cold or the flu
How is Asthma Diagnosed?
Taking a medical history, asking about symptoms, and listening to you breathe
Performing a lung function test, using a device called a spirometer, to measure how much air you can exhale after first taking a deep breath and how fast you can empty your lungs. You may be asked before or after the test to inhale a short-acting bronchodilator (medicine that opens the airways by relaxing tight muscles and also helps clear mucus from the lungs).
Performing a methacholine challenge test; this asthma test may be performed if your symptoms and spirometry test do not clearly show asthma. When inhaled, methacholine causes the airways to spasm and narrow if asthma is present. During this test, you inhale increasing amounts of methacholine aerosol mist before and after spirometry. The methacholine test is considered positive, meaning asthma is present, if the lung function drops by at least 20%. A bronchodilator is always given at the end of the test to reverse the effects of the methacholine.
Asthma Treatment
Properly using asthma medication, as prescribed by your doctor, is the basis of good asthma control, in addition to avoiding triggers and monitoring daily asthma symptoms. There are two main types of asthma medications:
Anti-inflammatories: This is the most important type of medication for most people with asthma. Anti-inflammatory medications, such as inhaled steroids, reduce swelling and mucus production in the airways. As a result, airways are less sensitive and less likely to react to triggers. These medications need to be taken daily and may need to be taken for several weeks before they begin to control asthma. Anti-inflammatories lead to a reduction in symptoms, better airflow, less sensitive airways, less airway damage, and fewer asthma episodes. If taken every day, they are helpful in controlling or preventing asthma flares. Oral steroids are taken for acute flares and help increase the efficacy of other medications and help reduce inflammation.
Bronchodilators: These medications relax the muscle bands that tighten around the airways. This action rapidly opens the airways, letting more air in and out of the lungs and improving breathing. As the airways open, the mucus moves more freely and can be coughed out more easily. Both short-acting and long-acting beta-agonists can be used for the prevention of symptoms of exercise-induced asthma. An anticholinergic which is available for individuals ages 6 and older, is another long-term maintenance medication for treating asthma.
Find An Asthma Doctor Near You